99J Straight Lace Closure Human Hair Wigs Burgundy Red Colored HD Transparent 4x4 Lace Front Wig With Baby Hair-Amanda Hair
NO LIMIT 15% OFF
Code:
G15
copy
Over $149 Get $25 OFF
Code:
G25
copy
Over $249 Get $45 OFF
Code:
G45
copy
Over $349 Get $70 OFF
Code:
G70
copy
Free shipping
30 Days Free Returns
24/7 Customer service
Free Gift
YOU MIGHT ALSO LIKE
Product Details
Brand Name

Amanda Hair

Hair 

Texture

High-Density Thick Straight Hair

Hair Color 
Dark 99J

Hair Length
18-24 Inch 

Hair Density

150% Density

Hair Material

100% Human Virgin Hair

Wig Cap Type

4*4 HD Lace Closure Wig

Wig Cap Size

Average (If you need to customize the wig cap size, please contact customer service)

Quality Management

It can last more than 12 months with proper care

Hair Advantage

No Shedding, Tangle Free, Soft, Bouncy

Can Be Permed

Yes, it can be permed, curled and restyled(Seek the help of a professional hair stylist)

Order processing (Include styling & coloring)

Stock Order (1 working day); No-inventory Order (3-5 working days)

Delivery Time

5-10 working days. Worldwide Shipping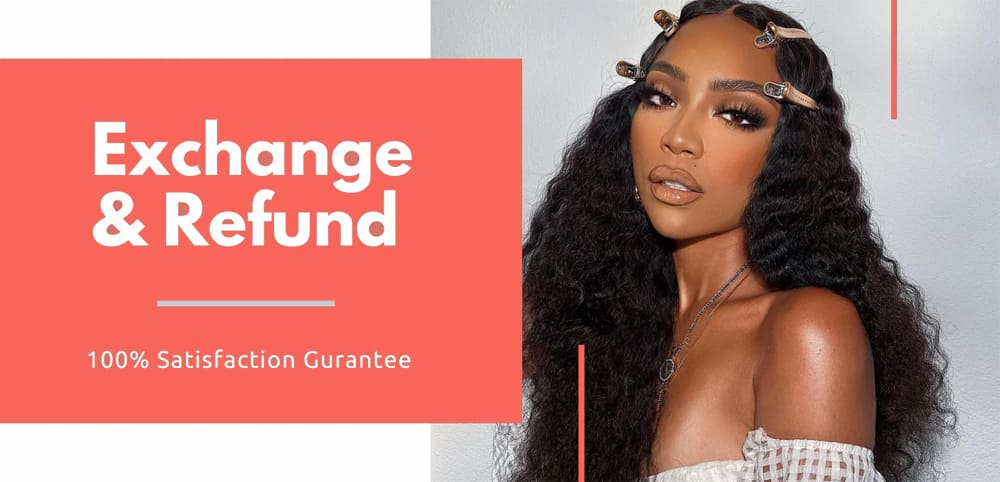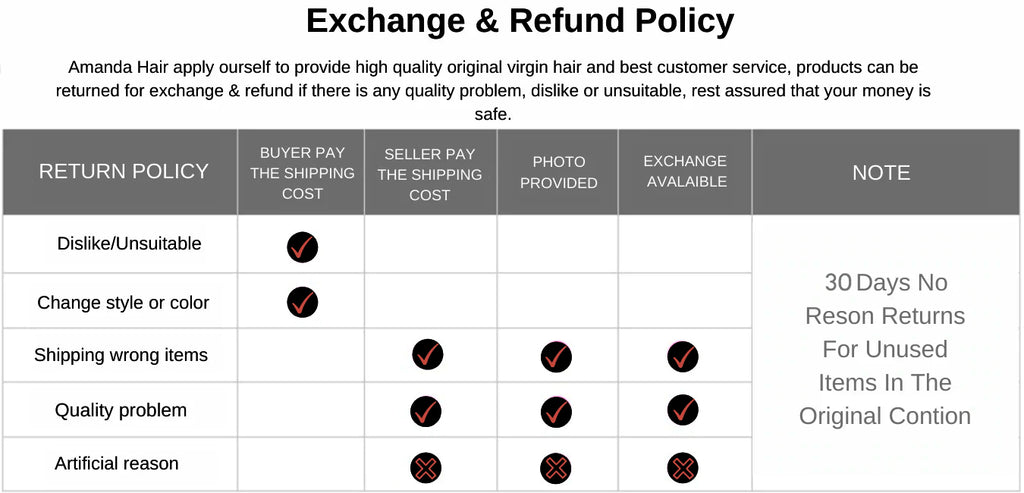 Exchange & Refund Details:

1. How do i make an exchnage/return?

2.What is the exchange/refund period?

3.Do i have to pay for the shipping of my return?

4. May i return my Amanda Hair without contact you?

5. When will i reveive my exchanged item or my refund?
HOW MAY I CONTACT YOU?
You may contact us by e-mail at faye@amandahairs.com.  We always guarantee a response within 24 hours and will be happy to help you!
Warm Tips:
Custom made orders can't be exchanged and returned except for our mistakes.
I

f you have any other questions,be free to e-mail us at faye@amandahairs.com. We're here to help!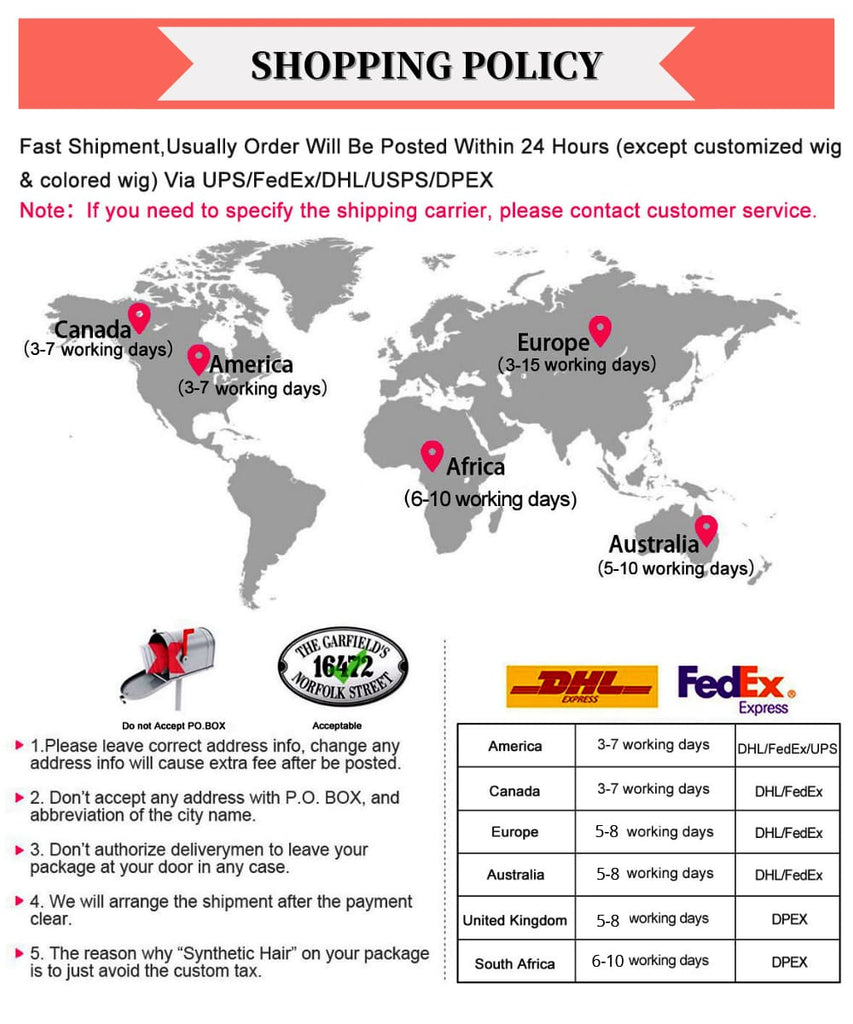 Shipping to worldwide, Africa and other remote regions need $20 shipping fee. Other countries free shipping, In order for you to receive your items quickly, Logistics will be selected according to the actual situation at the time, We guarantee that we will make the most beneficial choice for our customers
If your order is urgent, pls contact us directly 
or leave comment on your order.
Email : faye@amandahairs.com
Phone: +8617630339198
Order And Shipping
Q:How do I pay for an order?  
A:  To pay for your order on www.amandahairs.com, follow the steps below:
1) Select the order and click the "Pay Now" button, or choose add to cart, than go to the checkout page.
2) Choose payment method on the checkout page
Q: What types of payment do you accept?
A: We accept the following payment methods:   
Paypal, any credit cards that can connect to pay with paypal, Western Union. We firstly recommend you use Paypal.
Q: When will you ship the hair and How long is the shipping?
A: Generally, we will despatch your order the other day since the date you placed the order. shipping to USA usually take 3-5 working days, to Europe 4-6 working days, Usually we shipping the product with 24 hours, Orders placed over the weekend will be shipped first thing Monday morning unless it is a holiday. However, we may need to wait for 2 or 3 days for the stock at times, thus the delivery will be delayed for 2 or 3days.Shipment is proceeded by Fedex/DHL. Kindly note below:P.O Box is not acceptable.
Q: Is there any custom duties?
A: Custom duties depends on your country custom policy, we usually put low value on the invoice to avoid the potential tax. You can also tell us the value you want to declare when you place order.
Q: Does Amanda hair guarantee delivery time?
A: Because the post office handles your shipment, we cannot guarantee the exact time of delivery. However, we will give you an idea of when the package will arrive. We suggest you to make orders 4 days in advance thus you will have sufficient time for shipping.
Q: What if my order delivery was delayed?
A: We definitely will deliver your order in time under normal circumstances. While, shipping delays may occur due to holidays, natural disasters, or carrier delays. Please keep in mind holidays do not count as a business day and should be considered when calculating shipping times. 
Q: How many bundles do I need?
A: Normally 3-4 bundles are enough for a full head, if the length reaches 20 inch, I suggest you can order 4 bundles. Or you can also combine a closure or frontal to make a full head.
Q: Does the hair have a bad smell?
A: Promise no corn-chip chemical smell. Our hair is 100% chemical-free. We not only care about beauty but also our customer's health! But we do cowash the hair in production process, so it may have a little shampoo smell.
Q: Can the hair be colored or bleached?
A: Yes. The hair can be colored. As a general rule it is easier to darken the hair than to lighter the hair. We highly recommend having your hairdresser dye the extensions as you will get the results you want, coloring them yourself always poses a high risk of not coming out the shade you want. If you can not get to a salon, always use a good quality hair dye and test a small sample first.
Q: Will the hair be shedding or tangle?
A: Shedding: A few strands initial shedding of new hair is normal. We always suggest customer seal weft before installing and brushing it with wide-tooth comb. Excessive shedding will cause by weft cutting or dryness. Please always seal the ends if you cut weft for installation and keep it moisturized.
B: Tangle: Usually, our hair will not tangle because it is cuticle intact human hair. However, dryness, oil & dirt build-up, salt water or not combing out daily will lead to tangle and shedding. Please follow hair care instruction and use good shampoo & conditioner to wash hair twice a week.
Q: What type of hair care products should I use?
A: Treat this hair just as if it was your own hair. Use good quality shampoo and conditioning products. Conditioning your hair is very important to keep it soft and manageable, so use leave in conditioners. You can also use products like gel and hair spray to keep the curls in place, but make sure to wash your hair and not leave in these products in for a long time. Recommended every day use: Olive Oil Hair Polisher.
Pleasantly surprised !Very satisfied with this order. The hair came on time and it came exactly with the expected length and no shedding. Vendor is very sweet and prompt, quickly shipped. The hairline and parting is beautifully natural. Overall good product, Very excited to put the wig on. Thank you! I love hair the color is wonderful. It's beautiful and soft. and the hair is true to length. and the hair is 100% human hair. This wig is exactly like the pictures!!
The wig is really beautiful, it is easy to put on and make. As for the hair, they are very soft to the touch and the color is beautiful, the length is very respected. the customer service was amazing. I have a lot of compliments about it. I do recommend this hair. Everyone loves it! Definitely buying another one very soon! thanks If you're thinking about buying this hair, just do it!! True to length, true to colour, it's super soft, no shedding. I'm just in love with it ! Love love love
I love this wig, lovely full wig, soft hair with no smell,amazing communication, thank you seller for all your time and for answering all my questions. Guys this is where you should buy your Wig. Is 100% human hair wig. I will order again.If you were thinking about ordering this wig. DO IT!! It is perfect. Love this hair. Will Definitely refer to someone else, only had the hair in for a few hours and I've gotten tons of compliments. Seller made sure to stay in contact and kept me updated on my order status. Will recommend!!!
love the hair most definitely a 10/10 but it's not true to its length i ordered a 26 inch it gives 28 inches over all i love it definitely !
I honestly have nothing to say ! THE HAIR IS ABSOLUTELY PERFECT. I bought a 26" with 150 density 4x4. I don't regret my purchase at all. The hair is soft and full, the hair is ready to wear. I'll be buying more wigs for sure !!! highly highly recommend ! id tell all my friends about this store best quality hair and the seller is the sweetest truly trust worthy , true to length . I loveeeeeee this hair !
This wig was very soft and smooth, I ordered the wig and it was true to size! There was almost no shedding and there was no bad smell. The lace is nice and thin. There are really nice baby hairs too! The hair is super wavy! The wig also came with lashes and a wig cap and a pretty pink bag! I recommend this wig for anyone who is looking for a nice thin lace wig and wavy look. I'm very happy with my order quality and length is satisfying . delivery was very fast and well packed. Thank you again I'll surely be buying again from the supplier.
The wig is very beautiful, already customize and so the already defined baby hairs, the locks are perfect, no hair falls... The length is true. I ordered the 18 inches. I trimmed it so all good. Even after trimming the hair was true to the length
I am very satisfied with this wig and I was pleasantly surprised after receiving it! The hair is not only soft but also very beautiful. Amazing quality!
i love this color, i really like how dark it is, very full, no bad smells, no tangled and no shedding. i love that it is not a bright color. i am used to the natural black color but this wig i can totally rock out. i recommend this store and their wigs too. thank you for all the gifts..